EnergyConsult News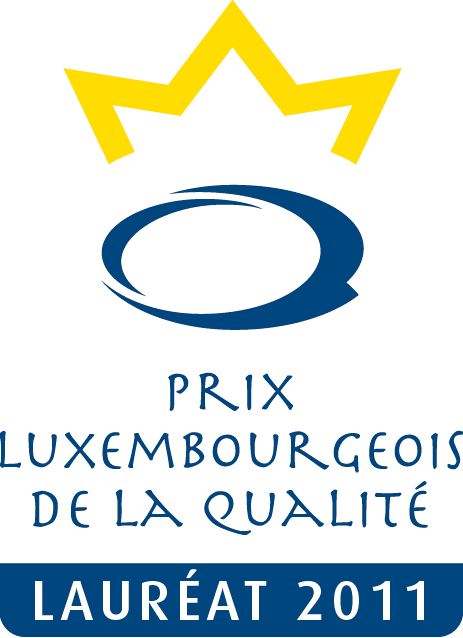 » Prix Luxembourgeois de la Qualité 2011
EnergyConsult ausgezeichnet für Exzellenz - EnergyConsult received Excellence Award
DE
EnergyConsult ausgezeichnet für Exzellenz beim Prix Luxembourgeois de la Qualité 2011
Im Rahmen der diesjährigen Festveranstaltung des Mouvement Luxembourgeois pour la Qualité (MLQ) wurde EnergyConsult als Preisträger für Exzellenz ausgezeichnet. Der Preis wurde überreicht von Jeannot Krecké, Luxembourger Minister für Wirtschaft und Außenhandel, Jean-Marie Reiff, Präsident des MLQ und Direktor ILNAS, sowie Christian Reding, Attaché Economique im Chambre des Métiers Luxembourg. In der Laudatio wurden im Besonderen die klar definierte Vision, Unternehmensstrategie, Engagement, Flexibilität und extrem konsequente Ausrichtung auf Kundenbedürfnisse und Kundenzufriedenheit hervorgehoben.
Dr. Stefan Glober, der als Geschäftsführer von EnergyConsult die Urkunde entgegennahm, zeigte sich besonders erfreut über die Anerkennung. "Die Auszeichnung zeigt uns, dass wir mit unserer Strategie und Ausrichtung auf Kundenwünsche und Kundenzufriedenheit auf dem richtigen Weg sind und dass die Qualität und die kontinuierliche Verbesserung unserer Arbeit Betätigung findet", so Glober. "Gerade bei einem so wichtigen Thema wie dem nachhaltigen und verantwortungsvollen Umgang mit Energiequellen und der kontinuierlichen Verbesserung der Energieeffizienz von Gebäuden sind qualitativ hochwertige Lösungen gefragt. Wir werden diese Auszeichnung nutzen, durch Aufklärung und hochwertige Ingenieur-Dienstleistungen unseren Beitrag weiter zu vergrößern", resümierte Glober.
EnergyConsult ist seit 2006 in Luxembourg etabliert und unterstützt Bauherren, Architekten, private und öffentliche Bauträger bei Planung, Umsetzung und Zertifizierung der Energieeffizienz bei Neubau, Umbau und Sanierung von Gebäuden. Unter der Leitung von Dr. Stefan Glober bietet EnergyConsult Ingenieurdienstleistungen auf höchstem Niveau von Energiepass/Energieberatung für Wohngebäude bis zu größten Infrastrukturprojekten privater und öffentlicher Bauträger. "Unabhängig von der Größe des Projekts, steht dabei immer der Kunde im Vordergrund. Qualität und kontinuierliche Verbesserung sind die Konsequenz aus dem Streben nach Perfektion, standardisierter Projektarbeit und kontinuierlicher Fortbildung", erklärte Glober. EnergyConsult versucht gerade auch durch Information und unabhängige Aufklärung seiner sozialen Verantwortung gerecht zu werden, indem es Kunden an das Thema Energieeffizienz heran führt und individuelle, nachhaltige und kosteneffiziente Lösungen für Bauprojekte erarbeitet.
EN
EnergyConsult receives award for excellence in Prix Luxembourgeois de la Qualité 2011
At this year's gala event of the Mouvement Luxembourgeois pour la Qualité (MLQ), EnergyConsult received the prestigious "on the Road of Excellence" award. The award was presented by Jeannot Krecké, Luxembourg's Minister for Economy and Foreign Trade, Jean-Marie Reiff, President of the MLQ and Director of ILNAS, as well as Christian Reding, Attaché Economique at the Chambre des Métiers Luxembourg. The laudation focused on EnergyConsult's clearly defined vision, business strategy, engagement, flexibility and the highly developed focus on customer needs and customer satisfaction.
Dr. Stefan Glober, who received the award in his function as Managing Director of EnergyConsult was particularly pleased with this recognition. "The award underlines that our focus on customer needs and customer satisfaction is the right business strategy. It is also a confirmation of the quality and continuous improvement of our daily work", said Glober. "On the topic of sustainable and responsible use of energy sources and the continuous improvement of energy efficiency of buildings, high-value solutions are in particular demand. We will use the momentum of this excellence award to continue to share information, advice and grow our engineering consultancy", Glober concluded.
EnergyConsult has been active in Luxembourg since 2006 and supports property owners, architects, private and public sector developers in the planning, execution and certification of energy efficiency of new constructions, transformations and renovations of buildings. Under the leadership of Dr. Stefan Glober, EnergyConsult offers high-calibre engineering consultancy services from energy pass and energy efficiency consultation for residential properties to the largest infrastructure projects of private and public sector developers. "Regardless of the size of project, the customer always comes first. Quality and continuous improvement are the consequential result of the pursuit of perfection, standardized project execution and continuous learning", Glober explained. Through particular focus on information and independent advice, EnergyConsult puts social responsibility into practice by generating customer interest in improved energy efficiency and through creation of be-spoke individual, sustainable and cost-effective solutions for building projects.

Award Ceremony Pictures
Posted on 25 Nov 2011