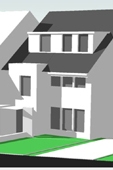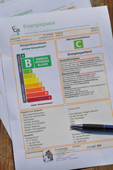 Energy Pass
for residential buildings
calculated on the energy need
for heating and hot water
Energy Pass
New Build Residential Buildings
When is an Energy Pass required?
The Energy Pass has been mandatory since 1 January 2008 for new construction projects and / or extensions to existing buildings. The energy performance certificate is an integral part of the building permit review and evaluates the expected energy consumption of the heating and hot water systems through
Certification of primary energy efficiency
Certification of heating energy need (thermal insulation class)
Conformance to minimum standards for components
Since 1 June 2011, an Energy Pass must also be be established when substantial changes are made to buildings (changes > 10% of the thermal envelope, changes to technical installations > 1500 € for individual homes and > 3000 € for apartment buildings).
In the case of changes during construction that affect the energy efficiency, the energy pass must be updated and resubmitted to the planning department.

In addition, for larger projects above 1000 m2, a feasibility study for the energy supply is required.
How is the Energy Pass established?
The creation of an Energy Pass is based on the calculated energy requirements for heating and hot water.
This takes into account
Size and compactness of the building
Thermal Insulation (materials, quality of components)
Detailed calculation of thermal bridges  (for passive houses AAA)
Solar architecture
Technical Installations (energy source, controls)
Energy need for heating, ventilation and hot water
Initially, this data is derived from the energy concept. No later than six months after the completion of the building, the updated Energy Pass must be submitted to the local planning department confirming the actual construction.
Cost
The cost of establishing the Energy Pass and the accompanying documents and certifications is based on the size and complexity of the building project. Contact us for a non-binding quote.