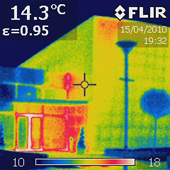 Elevated heat losses
on the right and
above the entrance, also air
leaks on door seals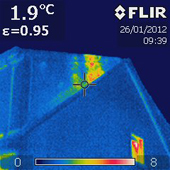 High heat losses on the
side wall of dormer window
(insulation missing?)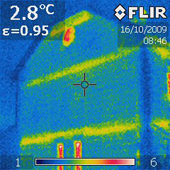 Floors create significant
thermal bridges
(building 1996)
Infrared Thermography
When is infrared thermography beneficial?
Infrared thermography can identify problems and weaknesses that would otherwise not be visible to the naked eye.
Poorly executed renovation
Thermal bridges (risk of mould, high heat loss)
Moisture problems
Air leaks
Blocked Pipes
Infrared thermography is not mandatory for an energy efficiency consultation for state subsidies, but can often be a useful addition towards identifying the most urgent priorities. We can make an evaluation/ recommendation for your specific case.
How is infrared thermography carried out?
In order to gain meaningful results, the building must be heated. The temperature difference between inside and outside should be at least 8 ° C. More...
Costs
Costs will depend on the complexity of the project. Contact us for a non-binding offer.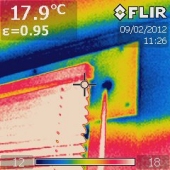 Pertes calorifiques à cause
de fuites et d'une mauvaise
étanchéité des caissons