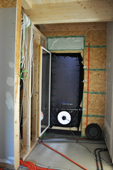 Preliminary test
after building is sealed
(Low-energy house,
wood frame construction)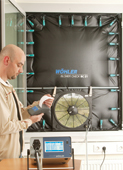 final
certification
of the building
Blower Door Test
When is the Blower Door Test beneficial?
Air leaks in the building's thermal envelope can be detected, quantified and resolved.
Reduced heat loss
Improved comfort
Avoid  moisture problems in the insulation (roof)
Avoid moisture problems in walls (wood-frame construction)
The proof of the airtight building envelope (blower door test) is a requirement for
Buildings with high energy efficiency (Passive house , low-energy house)
After installation of a controlled ventilation (for state subsidies)
In general, we recommend the blower door test for quality assurance after renovation work, in particular after roof insulation.
How is the Blower Door Test performed?
The test setup and procedure is laid down in detail in  DIN EN 13829. A large blower system is used to generate a constant positive pressure or negative pressure in the house. The air leakage is detected by a calibrated measuring system or can be made ??visible by smoke sensors, smoke generators or with an infrared camera.
Costs
Costs will depend on complexity of the project. Contact us for a non-binding offer.