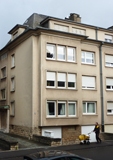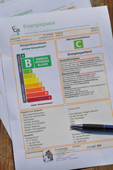 Energy Pass
for residential buildings
calculated on the energy need
for heating and hot water
Existing Residential Buildings
When is an Energy Pass required?
Since 1 January 2008, the Energy Pass has been obligatory for the extension of existing buildings.
Since 1 January 2010 the Energy Pass is also required for the sale and/or rental of residential buildings. The Energy Pass must be established at the latest by the time the notarized act is signed and presented to the new owner or tenant.
In addition, since 1 June 2011, the Energy Pass is required when substantial changes are made to existing buildings (changes > 10% of the thermal envelope, changes to technical installations > 1500 €  to individual homes and > 3000 € for apartment buildings).

The provision of the Energy Pass is the responsibility of the owner (seller or landlord). For apartment buildings typically the owners' association will coordinate and commision the creation of an Energy Pass.
The Energy Pass states among others
Primary energy need (primary energy class)
Heating energy need (thermal insulation class)
Measured energy consumption
Specific suggestions for improving  energy efficiency
For building extensions similar minimum requirements apply as for new constructions.
The Energy Pass is valid for 10 years.
How is the Energy Pass established?
The Energy Pass is based on the calculated energy need for heating and hot water.
This takes into account
Size and compactness of the building
Thermal Insulation (materials, quality of components)
Solar architecture
Technical Installations (energy source, controls)
Energy need for heating, ventilation and hot water
This data is derived from a detailed on-site assessment, supported by building plans, documents and invoices relating to past renovations (if available). In addition, specific suggestions for improvements to energy efficiency are made.
Cost
The cost of establishing the Energy Pass is based on the size and complexity of the building. Contact us for a non-binding quote.